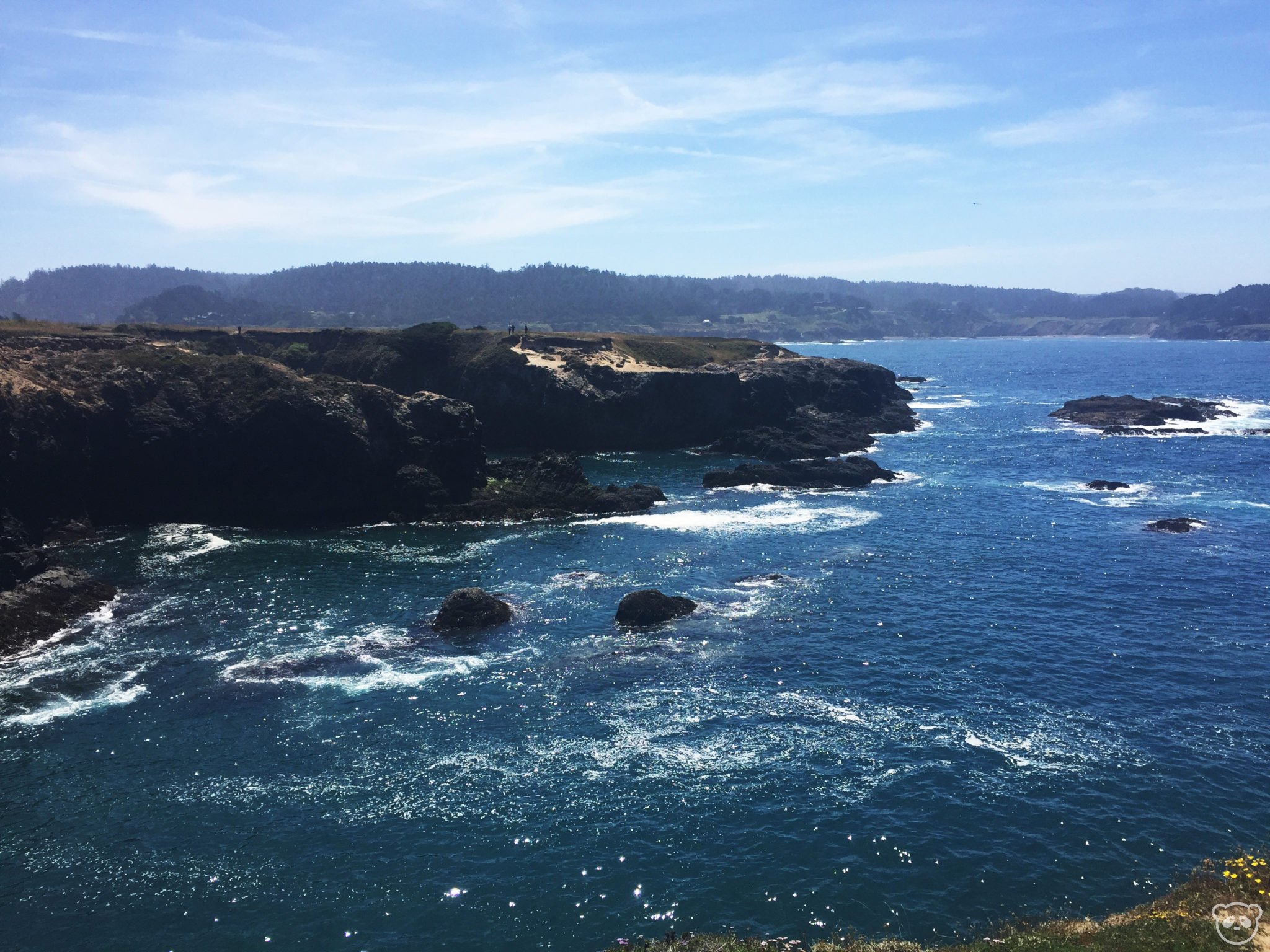 Note: There may be affiliate links within this post for which we may receive some credits in return for your sign ups.
As a resident of the Bay Area, it is SO easy to say "let's just go to LA for a weekend!" Because why NOT go to Los Angeles? We have friends there, We can visit them and see some new exhibits we've been wanting to see… the problem here is, it's the "easy way out" for a weekend trip for us because we already know what to do when we get there AND it's super easy to get to.
We decided to take another route this time and explore more of California, parts of California we've never seen before. So we went in the opposite direction of LA and drove up to the Mendocino coast and the coastal redwood forests!
We purposely split up the drive over several days to minimize time spent driving and maximize adventure time! As always, a map at the bottom of this post will show you all of the places we visited. 🙂
This road trip ended up taking approximately 3.5 days. If you're not a fan of intense, on-the-go type of trips, we recommend taking 4-5 days to do the drive from the San Francisco area. You will also have more time to explore the redwoods or more of Mendocino. The first day was the ½ day, we spent majority of the time driving up to Fort Bragg where we were staying the night.
Note: The drive from San Francisco to Fort Bragg directly is approximately 4hrs (171mi). From San Francisco to Humboldt Redwoods State Park, non-stop, it's about 5hrs (219mi). It takes about the same length of time as a drive to Los Angeles on I-5 but it's much windier and time-consuming.
The roads can be windy, especially near the tail-end of the drive to Fort Bragg, through Jackson State Forest, so bring your Dramamine if you get carsick, just don't take it if you're driving. 😉
Some of the destinations can be a bit difficult to find so we've included the GPS coordinates at the bottom of the page, in the TLDR Itinerary section as well as within the map.
Travel Tip: It would be best to use an actual GPS for this drive, instead of your phone, because there is a good chance you'll lose service.
It's a super scenic drive throughout from the Golden Gate Bridge (be prepared for those expensive tolls on the way back) through Marin and Napa counties, across the windy roads through Jackson State Forest, and up to Fort Bragg. You'll pass by lots of grassy mountains, rows of vineyards, grazing cows, and best of all, the redwood forest!
Note: Golden Gate Bridge tolls can be expensive, $6.75 with Fastrak; one-time payment/toll invoice is $7.75 per car. You will pay on your way back into San Francisco as exiting San Francisco is "free."
On the way up to Fort Bragg, we took a detour onto the Pacific Coast Highway (I-1) to make a pit stop for early dinner at Marin Sun Farms at Point Reyes Station. This is a small restaurant that also happens to be a butcher. One of my favorite things about this restaurant, aside from the food, is they source from local California farms that provide grass-fed cows/lamb/goats, pasture-raised chicken, as well as other game meats, like rabbit and duck. Their steaks are to die for; both their goat and lamb burgers are also insanely good, so that definitely helps!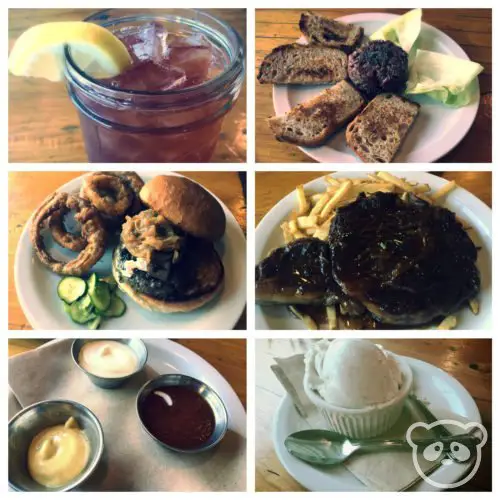 We also stopped in cutesy Point Reyes at Tomales Bay Foods, which is a miniature version of the Ferry Building at The Embarcadero in San Francisco, where they have stands of different types of food. This mini version only had a sandwich place and a Cowgirl Creamery. We only got a drink (egg cream) here to try.
Continuing our journey through Marin and Napa counties, we got back onto 101 and headed north through rolling green hills and up to the coastal redwoods of Jackson State Forest. I wish we had more time to stop and explore this area and hike in the redwoods, but we had to keep our eyes on the prize and continue to Fort Bragg and the Avenue of the Giants further north.
Because we stopped off to eat, our drive was a bit longer than 4hrs so we didn't reach Fort Bragg until close to 8pm. After that long drive, we were ready to rest for the long days of exploring ahead.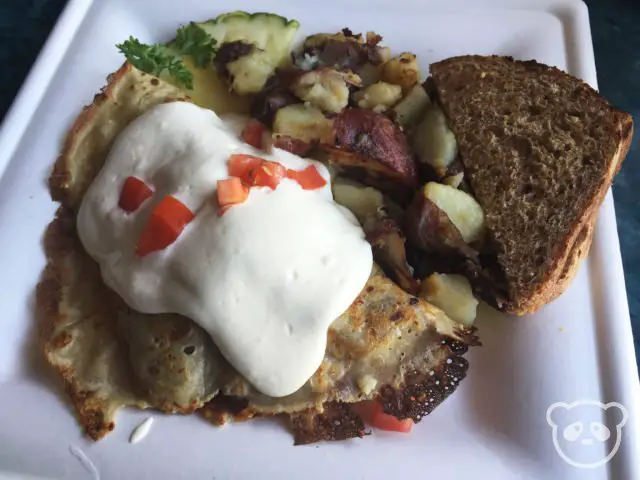 Our first full day (Saturday) took us through parts of Mendocino and into Humboldt county. We started off our day with Egghead's Restaurant, a Wizard of Oz themed breakfast/brunch place. The food was good and it was quirky and unique. They're pretty popular (especially with tourists from the Bay) so definitely arrive early and expect a wait.
Afterwards we headed to the Noyo Headlands Park and the famous Glass Beach within. We parked on the street to avoid the parking charges inside the official lot. Money-saving tip for ya there! To our surprise there are actually a few beaches in the area with sea glass. Two of which are easily accessible, one of those did require climbing a bunch of stairs down a cliff, definitely not recommended for those wearing flip flops! The Glass Beach was really cool, just seeing so much sea glass all over the floor was amazing.
Fun Fact:

Sea glass is physically and chemically weathered glass found along beaches along bodies of salt water. Most sea glass comes from bottles and the most common colors are kelly green, brown, and white.
It's crazy to know that sea glass originated from locals back in the old days throwing all their trash into the ocean. Then, the glass items would break as wear into rounded pebbles as the ocean waved and rocked it around. It's interesting that something so bad for the environment could turn out so beautiful, but then again glass is made from sand as well… so it's probably less bad than the plastics of current times.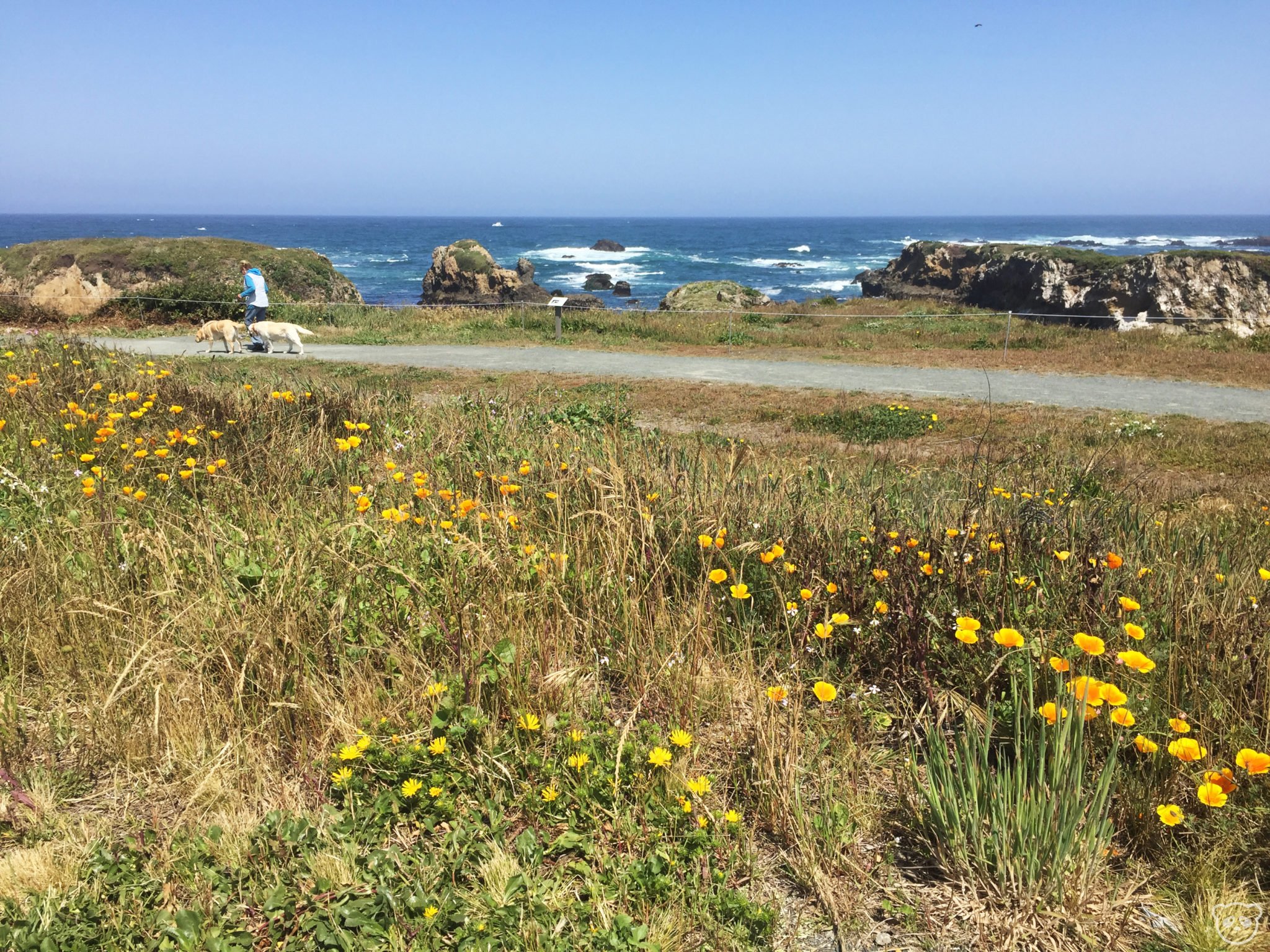 Inglenook Fen/Ten Miles Dune Preserve inside MacKerricher State Park was our next stop!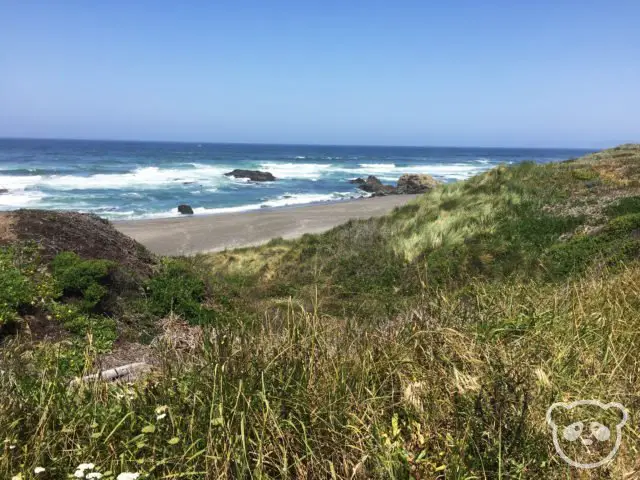 Fun Fact:

A fen is an ecological intermediate between a bog and a marsh; it also happens to be the last coastal fen in California.
Inglenook Fen/Ten Miles Dune Preserve area is one of the most beautiful scenic places in California and it's definitely one of the lesser known. I love that it makes for amazing photos because you've got the bright blue ocean, grayish yellow sand, and yellow-green grass all in one shot. It was really cool to see something so rare in the United States and they can only typically be seen in the southeastern parts of the U.S.
It can also be difficult to find the parking since it's closest to a residential area, but I have included the GPS coordinates are included at the bottom of this page.
You can't go up to the northern Californian redwoods without driving through a tree! That was our next stop on our road trip up to the redwoods.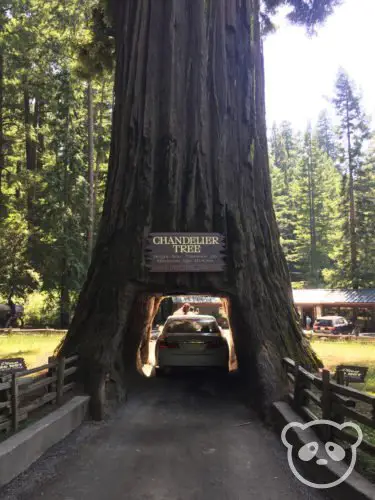 We did A LOT of research on this, since we wanted to drive through a photogenic tree, we ended up choosing the Chandelier Drive-Thru Tree. NOT driving through the Shrine Tree on Avenue of the Giants, sorry, not sorry, just not photogenic enough for the gram!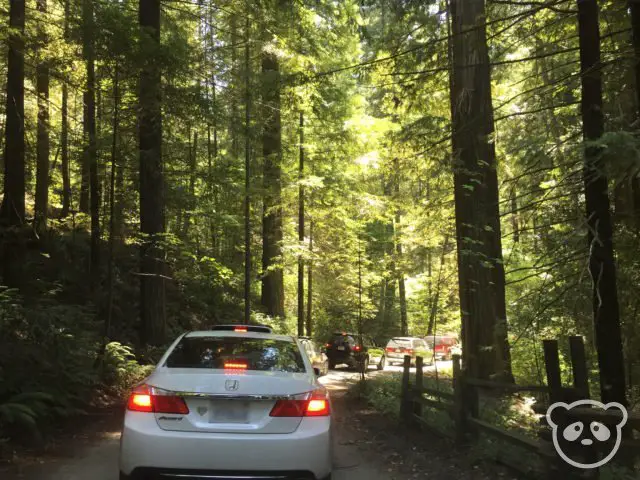 We went on the Saturday of Memorial Day weekend so the lines were pretty long and we ended up waiting 1hr to get through the tree. While you're waiting in line, you'll come across a little shack where you pay admission; it costed us $5 per car, well worth it for the experience!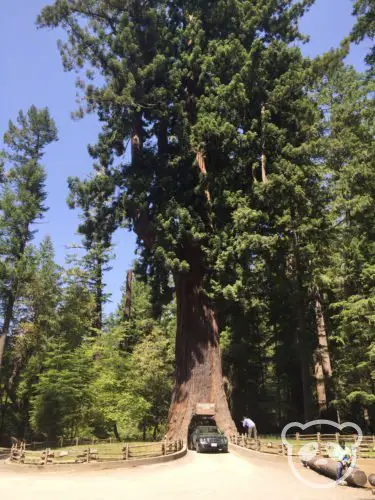 We have a smaller car so it wasn't too difficult to get through but we definitely saw some scrapes inside from previous cars. So your car may not make it through! We saw a car get scraped. If you have a full sized SUV or larger, be aware! There is also a cute gift shop here, picnic tables, and a restroom. It's privately owned by a local family so it's always nice to support these places, especially if you're looking to do the California tourist thing and drive through a tree.      
Next up, Avenue of the Giants. The Avenue of the Giants is a scenic redwood tree-lined highway that runs through the outskirts of Humboldt Redwoods State Park for approximately 20mi between Miranda and Redcrest. Key sights off of the road include the Immortal Tree, Founders Grove, the Dyerville Giant, the Rockefeller Forest Grove, the Shrine Drive-Thru Tree (if you don't want to do the Chandelier Tree, this is another option), Eel River, and South Fork.
Fun Fact:

Humboldt Redwoods State Park was established in 1921 by the Save-the-Redwoods League with land purchased from the Pacific Lumber Company.
This was AMAZING! Driving through the forest on this road is one of the most beautiful drives and my favorite thing to do in this area. It's insane how these magnificently tall trees can make you feel so small. You can turn on various roads along the Avenue to get to campgrounds and hiking trails to get even closer to these "Giants", but we drove down the entire avenue first.
On the way back, we stopped by the Visitor's Center which was unfortunately closed since we got there 5min after 5pm, so don't make the same mistake we did! We decided to do Founders Grove anyways and hiked the Founders Grove Loop (0.5mi). This trail takes you to the Founders Tree, a 346ft tall tree with a 40ft circumference, and the fallen Dyerville Giant, which was once a 370ft tall redwood believed to have been about 1,500 years old!
By the time we finished the hike, it was close to dusk so we didn't want to risk getting lost and stuck in the woods so we headed out for dinner in Garberville.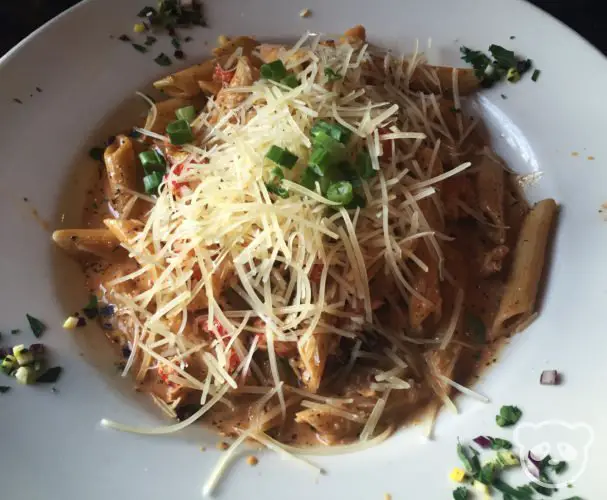 We had dinner at Cecil's New Orleans Bistro, this is definitely where the locals go for a dinner out as it seemed like a lot of people knew each other. The food itself was okay, coming from the Bay Area, we've definitely had better elsewhere. Post-dinner we just went back to our Airbnb (get $45 off $75+ on your new booking) to rest and relax for more exploring on Sunday.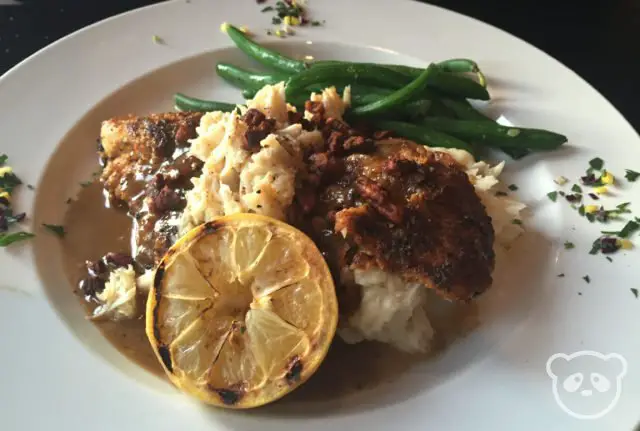 On Sunday, we just grabbed some breakfast sandwiches for breakfast at a random gas station/rest stop in the area to save on time. We stopped by the Visitor's Center first to get some more information on the possible hikes in the area and ended up deciding on the Rockefeller Loop at Rockefeller Grove.
Fun Fact:

The Rockefeller Grove is so named because J.D. Rockefeller donated $1million to purchase the grove and save the redwoods from logging. At first, he did not want the grove to be named after his family so it was called Bull Creek-Dyer Forest until 1951. (

Humboldt Redwoods Interpretive Association

)
The grove can be a little difficult to find, but if you're driving on the Avenue of the Giants, turn on Mattole Road just north of Founders Grove. There will be a small sign that says "Rockefeller Forest/Lower Bull Creek Flats" make a left onto the single-lane road, follow that road to the parking area. GPS coordinates are also included at the bottom of this page. 
One of my favorite things about Rockefeller Grove was that it was farther from the main road and as a result, it was much more quiet than Founders Grove. The redwoods at Founders Grove were larger and more amazing, but Rockefeller Grove held its own! I loved the sense of tranquility amongst these giants in this forest. The loop is only 0.7mi so it is a quick and easy hike even for those who are out of shape!
Fun Fact:

The Rockefeller Forest is also the world's largest remaining tract of old-growth coastal redwoods.
The other hikes in the area are 3+mi so in the spirit of saving time, we decided to head back to Mendocino to explore more of the area. The drive back is about 2.5hrs (100mi) non-stop; however we made a couple of stops along the Pacific Coast Highway to take a few pictures.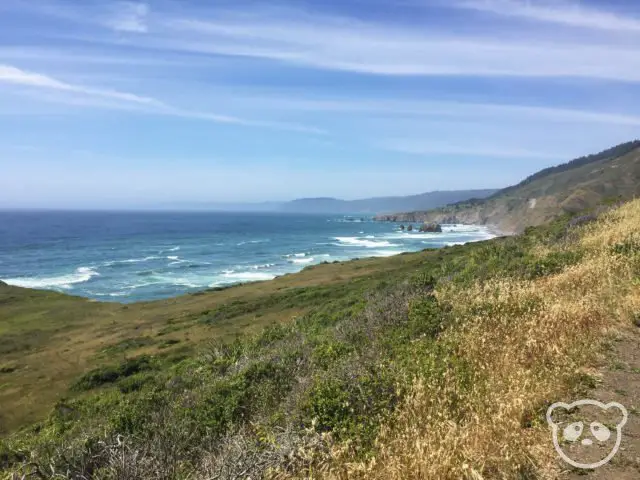 Luckily we were able to get back pretty early and made it in time to see Point Cabrillo Lighthouse. You can't drive to the lighthouse directly unless you're staying inside as a rental cottage guest, but they do have a parking lot that gets you to a short ~1.2mi hike that goes to the lighthouse. We took the North Trail, for the first 1.2mi, and then Lighthouse Road on the way back. Lighthouse Road the paved road that guests can travel on. The museum is also located along this road and is open until 4pm. It's pretty educational since it has information about coastal animals and you can learn how the Fresnel lens, which is used to reflect light onto the water, works!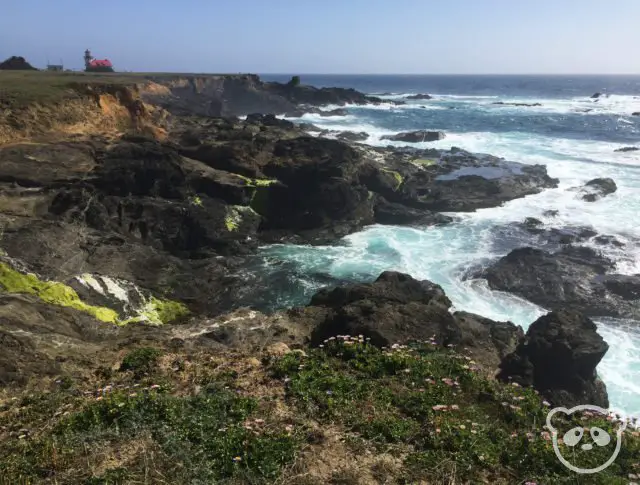 Fun Fact:

Point Cabrillo Lighthouse was built in 1909 and the last lightkeeper retired in 1972, however they continued to live in there until 1992 when the California State Coastal Conservancy took over. (

Point Cabrillo Lightkeepers Association

)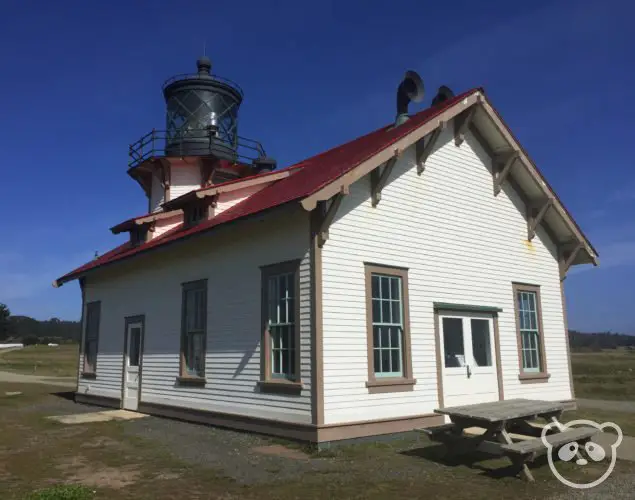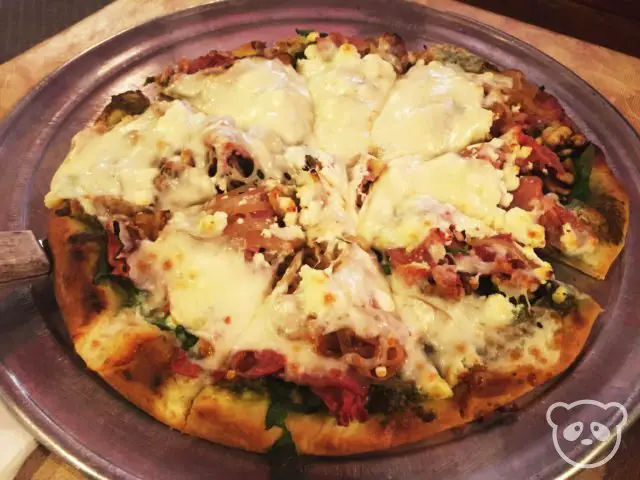 For dinner, we drove to D'Aurelios in Fort Bragg. This was one of THE best pizza places I've ever had so I highly recommend it. Usually I'm not a huge fan of pizza because it can be really heavy, but we had a pizza AND a calzone and they were both amazing! Because it's such a great gem a lot of locals come here and there's typically a wait, so plan ahead! They also close at 9pm, a bit earlier than what we're used to.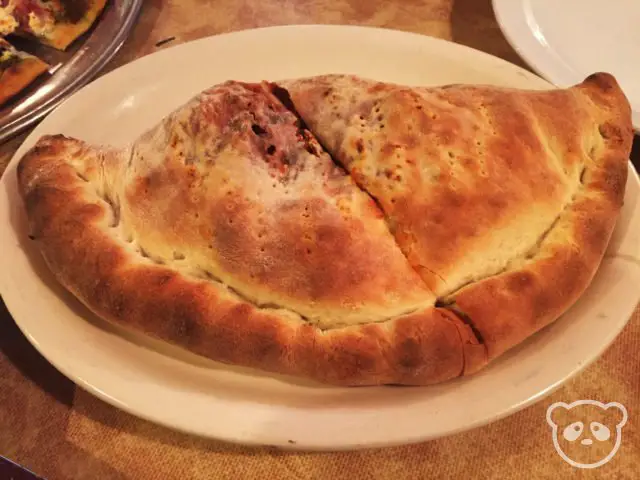 After dinner, we took a detour to Cowlick's for some amazing ice cream! They are best known for their candy cap mushroom ice cream which is made from a local mushroom from the Mendocino area. It doesn't have the earthy flavor typical of mushrooms so I'd recommend it even for those of you who don't love mushrooms like I do!
Before heading back to our hotel, we went back out to the Glass Beach to watch the sun set. It was super beautiful!
Our last day (Monday), we spent in Mendocino! At this point, I'd been waiting ALL weekend to see the iconic coastal cliffs that Mendocino is known for, and I could hardly wait!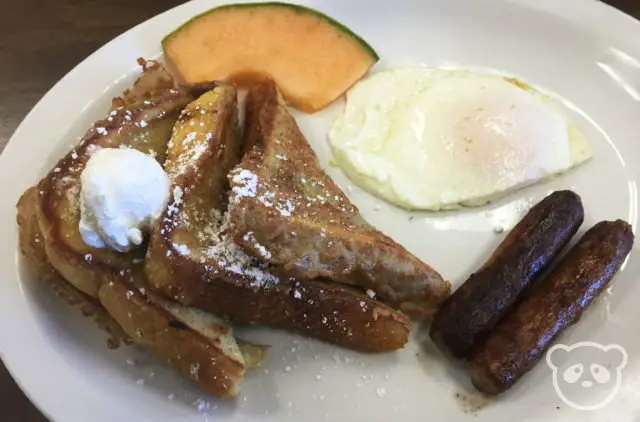 But first, breakfast! We went to David's Restaurant, and while the name doesn't sound like a breakfast place. This is THE place where locals do brunch! We saw a bunch of people say "Hi" to each other. This place was definitely a gem and I loved that there weren't as many tourists as Egghead's so there was no wait. For the record, this place was also much larger.

After filling our bellies with delicious food and coffee, we headed to Mendocino Headlands State Park on our hike! We did a roughly 1mi hike by parking on a residential street on Little Lake Street and walked into the Headlands along Heeser Street to the beginning of the Point Mendocino trail.
We did the scenic Point Mendocino trail all along coast, it was EXACTLY what I had been waiting to see ALL weekend. Growing up in California, I'd always wondered if those Mendocino cliffs were as beautiful as I'd seen in pictures. They were!!!
We followed the Point Mendocino trail to Heeser Drive and back to Little Lake Street. Instead of going back to the car, we took a walk through cute, little Downtown Mendocino. I loved walking down Main Street, all the little shops were super quaint! It's definitely worth a visit, plus there's restrooms at Visitor's Center on this street if nature calls.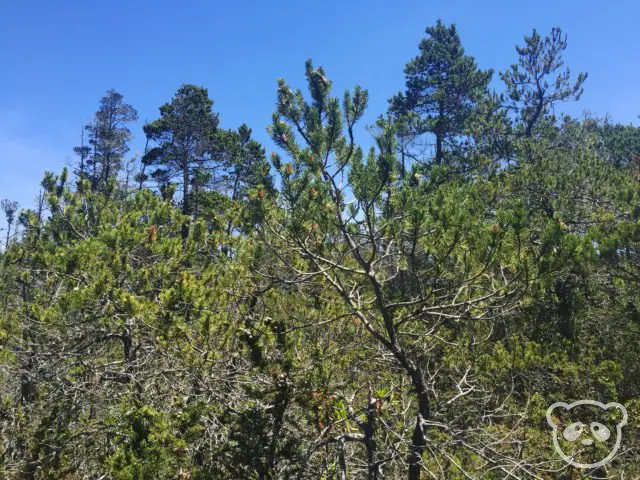 Since we had a little bit of time left, we headed over to the Pygmy Forest at Van Damme State Park on the way home.
The general directions are that you will drive South on I-1 (Pacific Coast Highway) from Fort Bragg. You will make a left onto Little River-Airport Road and then make a left after you pass the airport to turn into Van Damme State Park and drive down into the parking lot.
However since the Pygmy Forest might be a little difficult to find, we've included the GPS coordinates at the bottom of this page.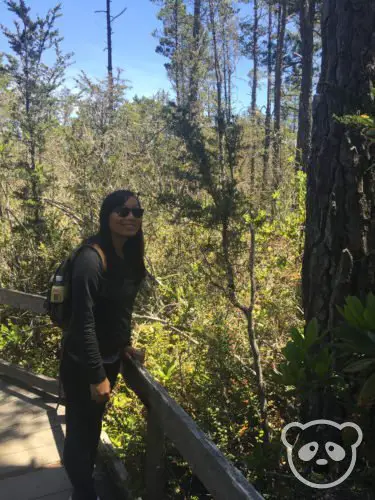 Even though this forest is hidden, don't let that discourage you, it's worth finding! You can get to the Pygmy Forest by taking the boardwalk Pygmy Forest Discovery Trail, this trail is that it's short (0.25mi) and wheelchair accessible.
Fun Fact:

The trees in the Pygmy Forest are over 100 years old, but are dwarfed due to poor soil fertility and lack of moisture within the soil.
The Pygmy Forest is basically made up of natural bonsai trees as the soil lacks the necessary nutrients to promote tree growth to their normal heights, resulting in stunted trees and shrubs. The pygmy forest is unique to this geological area of Van Damme State Park as a short distance away, there are redwoods growing normally. Most of the pygmy forest is under 5-6ft tall!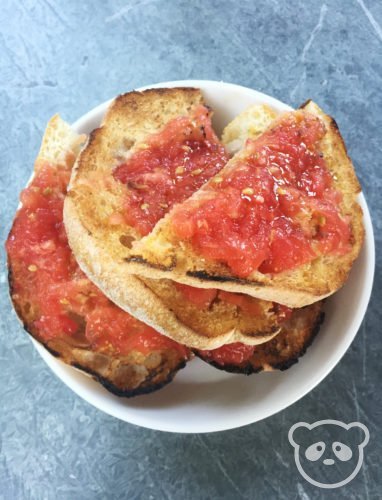 After visiting the pygmy forest, we began our journey home to the Bay Area, stopping to eat in Healdsburg and grab a beer on the way home. Bravas is my favorite place to eat in Healdsburg, their tapas are literally a taste of Spain and I haven't had pan con tomate that tasted THIS good since I left Barcelona. Their grilled octopus was also amazing and left me wanting to go back to Spain! Healdsburg is definitely up-and-coming, bustling with delicious restaurants and wineries. Bear is a major beer lover, as he sometimes brews his own beer, so we had to stop by Russian River Brewing Company so he could grab a pint!

TLDR Itinerary
For the GPS coordinates, as we've previously stated in my Chasing Waterfalls post, depending upon your GPS you will need to enter either north/west information or the negative sign.

DAY 0.5
Drive from San Francisco Bay Area to Fort Bragg

Marin Sun Farms
10905 Shoreline Hwy., Point Reyes Station
Tomales Bay Foods
80 4th St., Point Reyes Station
DAY 1
Egghead's Restaurant
326 N Main St., Fort Bragg
Noyo Headlands/Glass Beach, Fort Bragg
GPS Coordinates: 39.452220 N, -123.809572 W

MacKerricher State Park/Inglenook Fen, Fort Bragg
GPS Coordinates: 39.529475 N, -123.766231 W.

Chandelier Drive-Thru Tree


67402 Drive Thru Tree Rd., Leggett

Avenue of the Giants, Humboldt Redwoods State Park
GPS Coordinates (Southern Entrance): 40.179776 N, -123.779945 W

Founders Grove, Humboldt Redwoods State Park
GPS Coordinates: 40.352598 N, -123.923478 W

Cecil's New Orleans Bistro


773 Redwood Dr., Garberville
DAY 2
Rockefeller Grove, Humboldt Redwoods State Park
GPS Coordinates for Rockefeller Grove: 40.340267 N, -123.942025 W

Point Cabrillo Lighthouse, Mendocino
GPS Coordinates (parking lot): 39.349716 N, -123.813362 W

D'Aurelio's
438 S Franklin St., Fort Bragg
Cowlick's Ice Cream


250 N Main St., Fort Bragg

Glass Beach, Fort Bragg
GPS Coordinates: 39.452220 N, -123.809572 W
DAY 3
David's Restaurant


163 Boatyard Dr., Fort Bragg

Mendocino Headlands State Park, Mendocino
GPS Coordinates for Point Mendocino Trail-head: 39.304111 N, -123.804361 W

Downtown Mendocino
Main Street (between Woodward St. and Lansing St.), Mendocino

Pygmy Forest, Van Damme State Park, Mendocino
GPS Coordinates: 39.267030 N, -123.738076 W

Drive back to San Francisco Bay Area from Mendocino
Bravas Bar de Tapas


420 Center St., Healdsburg

Russian River Brewing Company


725 4th St., Santa Rosa
Map of All Our Spots
Click on the location pins to see where they're all located!
Loading map ...
Disclaimer: This post may contain affiliate/referral links to products & services that we have either personally used or are similar to those we have used. Hosting does cost money so working with these programs allows us to recoup some of those costs. For more information regarding our advertisers, see our disclosure policy here. We appreciate your support!