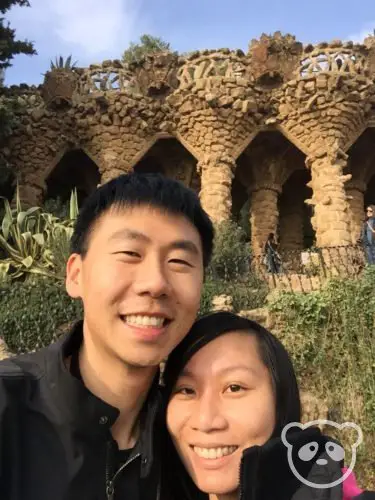 Hi I'm Constance 🐼. He's Jimmy 🐻 (more about him later).
I am a casual traveler, an experienced eater, and an experimental chef.
I fell in love with traveling when I studied abroad. Growing up, we would take occasional trips to Disneyland or back to Hong Kong to visit family, but nothing compared to living abroad on my own.
In my junior year of college, I applied to study abroad in Hong Kong and Shanghai for an entire year. I'll admit I'm privileged to have the opportunity to do so especially because it opened my eyes to another world outside of the U.S. I came back with a whole new outlook on the "Chinese food" I'd grown up with in America as well as crazy stories to entertain friends and family.
Back then, I would also make excuses for not traveling, it cost too much, I couldn't afford it, I had midterms to study for… the list goes on. That was one of my biggest regrets of studying abroad, not enjoying it and exploring as much as I could and should have.
Since then I have made it a personal goal to travel the world, seeing Italy, Greece, Turkey, Israel, Taiwan, Spain, United Kingdom, France, Philippines, Croatia, Belgium, Denmark, the Netherlands, and Iceland. Everyone loves asking me where I want to go to next, but the world is so large, there are so many places I want to go and I have yet to make it to!
If travel was my second love, food would have to be my first. I have loved food since the day I was born. My discerning tastebuds have turned me into somewhat of a picky eater and I have a knack for figuring out the individual spices and flavors in my food. When traveling, I love experiencing the local cuisines and tasting delicious street food! And when I'm not flying all over the world, I love taking a stab at recreating dishes I've eaten in other countries and perfecting those recipes.
This blog originally began as an Instagram account @the.adventures.of.panda.bear to document our "adventures" as Constance 🐼 and Jimmy 🐻 and to share said travels and eats with friends and family. Soon I realized that it would be great to be able to share the information we've learned while traveling as well as the recipes I've perfected using a blog as a platform and Theadventuresofpandabear.com was born! I'm primarily focusing upon topics such as traveling as a couple/solo/with friends, enjoying local foods while traveling, and eating international dishes at home. I want to motivate people to travel as much as they can and get out of their comfort zones 🙂
When I started my Instagram account, I wasn't sure what role 🐻 wanted to play in it, aside from occasionally appearing in the photos. More recently, he has expressed an interest in blogging his trips so you will also get to hear (I guess, read, technically) his voice in future guest posts!
I also provide freelance design services in user experience, graphic design, web design, and print design. In short, I am skilled in creating logos, WordPress sites, and as well as providing website evaluations for user-friendliness. Stay tuned, I am in the process of creating a page with a form to contact me directly for a quote! For the meantime, you can email project details to me at hi@theadventuresofpandabear.com
This was a bit long, thank you for reading if you've made it this far! I'm excited to share our adventures in food and travel with you! 😍
– Constance 🐼
Our Bucket List
The map that keeps on adding on to itself.
Loading map ...